After seeing Wataru Endo on the field for the first time in November 2019 in the derby against KSC i realized: this will be a great one! The subsequent interview with Mario Gomez, who charmingly named him player of the match, was water on my soccer mills. A short time later Legendo came to my mind and i began to spam and comment everything that had to do with VfBs rising star.
The beginning of a wonderful journey that ended up on my jersey (2020) and later on in the official VfB–Shops quite a few random others (2022). 'Legendo' found its way into the team and also onto the VfB social channels and communication.
As Wataru Endo is changing clubs and i'm leaving twitter: here's the chronological order of the tweets and comments from then to now. On Facebook and Instagram the comments are still alive and likeable.
All the best, farewell Legendo!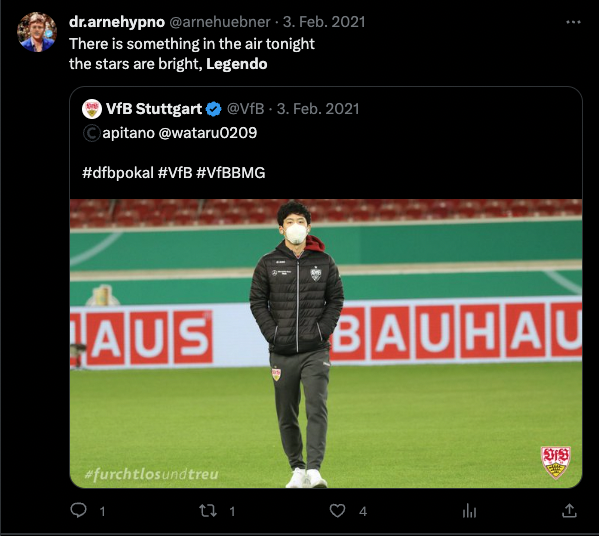 Du bist einfach nur ein Ehrenmann,
einer der wo alles kann
Legendoooo
Kämpfst und gewinnst jeden Ball,
komm mach es noch einmal 
Legendooo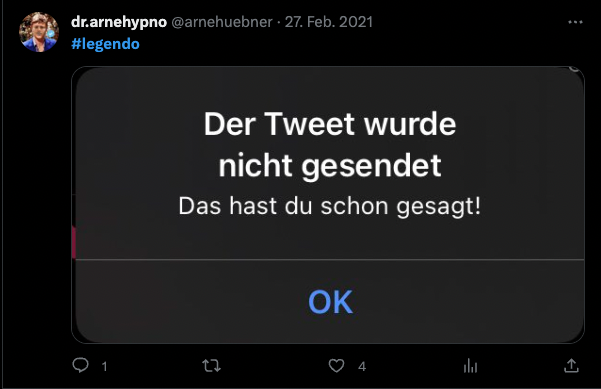 27. Februar 2021
Nach dem 5:1-Sieg des VfB Stuttgart gegen Schalke ist Wataru Endo der Mann der Stunde!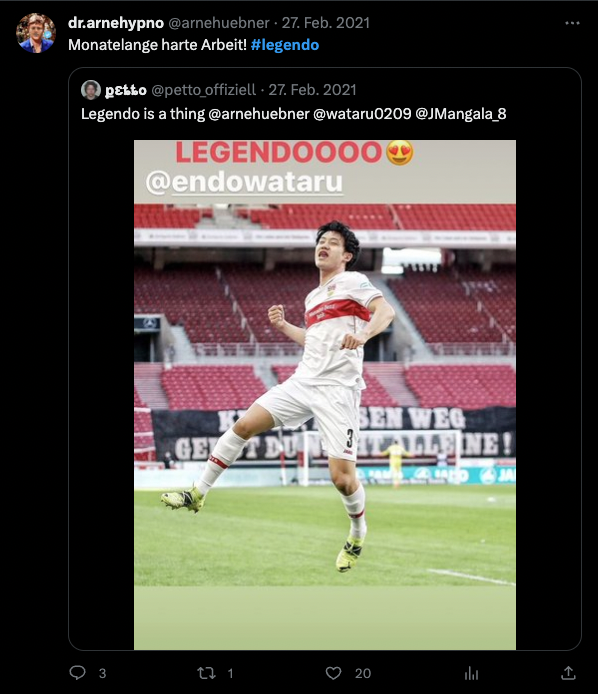 Update, 01. März: Wataru Endo wurde beim VfB Stuttgart gegen Schalke zum Ballermann! Zwei Tore und zwei Vorlagen steuerte der Japaner zum 5:1-Erfolg bei. Es war sein erster Doppelpack und ohnehin seit langem mal wieder Tore. Dass nicht nur die Fans der Schwaben diese Leistung honorieren, zeigt nun die Spieltagself bei transfermarkt.de.